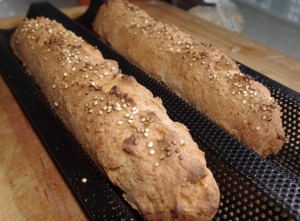 I've been playing around with the gluten-free recipes from Healthy Bread in 5 Minutes per day.  Zoe Francois and Jeff Hertzberg have done a great job of providing whole grain and gluten-free options for their Artisan Bread in 5 minutes per day method.
Simply put, this method is great for families and households where you would like to be able to make bread with a minimum of fuss.  It involves mixing larger batches of dough, and letting a long, cool, delayed fermentation do the rest of the work for you.  For wheat-based breads, this method is great, as it develops the gluten structure slowly, but thoroughly, and has the added benefit of the enzymatic reactions typical of a delayed ferment.   Obviously, with gluten-free breads, there is no need to develop the gluten, but this method is a great one nonetheless, for the convenience AND for the flavour development
While I've been doing my own noodling around with these recipes to make them egg and dairy-free, a while back, I noticed that ABin5 put up their own version of an egg-free, gluten-free version, which was also whole-grain heavy to boot!  AWESOME, I thought, and read on, only to discover that it made use of some of the new King Arthur gluten-free flours — not at all readily available to us up here in B.C.  In my trials with this method, I've moved completely away from commercial egg-replacers as I found them too drying, and been relying on chia seeds or flax seeds, so I was interested to see that ABin5 also fell back on flax seeds for theirs.
Undaunted, I set about to play around and come up with a recipe that would be heavier on whole grains, but be feasible for those of us still buying our flours separately!  This is my modification of Zoe and Jeffs — the proportions are based on their original recipe, with the major change being the flours.  This relies on only about 25% starch for the texture: considerably less than the minimum of 50% that many other gluten-free breads require to achieve a pleasant texture.  The other addition here that is critical, is the inclusion of sweet rice flour, which adds moisture and helps with the binding of the final flour.
A final note:  I've given proportions in volume measures here.   There is minimal mixing required for this approach, as the xantham gum hydrates slowly while the dough sits, and I've found that hydration levels are easy to adjust for as you go.  I've tried both volume and weight measures, and had consistent results with both, so left the measures as volumes as many folks find them easier.
We're making baguettes here today, but stay tuned to see what else we can make with this dough!  We're also sending this one over to Yeastspotting, go check out  what some amazing bread bakers have been up to!!!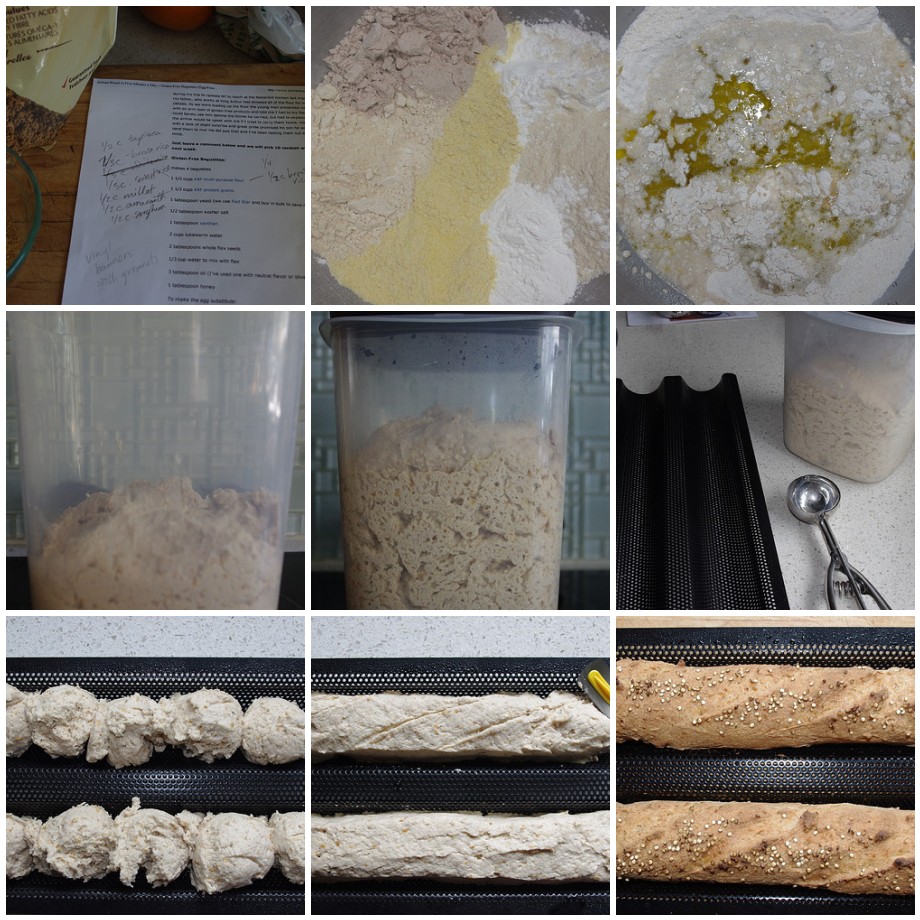 Whole "Grain" Gluten-free, Egg-free Baguettes
(modified from Artisan Bread in 5 minutes per day)
2 tablespoons flax meal (I use golden flax seeds for their flavour)
1/3 cup warm water
1/2 cup tapioca starch
2/3 cup brown rice flour (make sure to use one that is very finely ground, not gritty)
1/3 cup sweet rice flour (also called "glutinous rice" or "sticky rice")
1/2 cup millet flour
1/2 cup amaranth flour
1/2 cup sorghum flour
1 Tablespoon instant yeast
1 1/2 teaspoons sea salt
1 Tablespoon Xantham gum
2 cups warm water
3 Tablespoons olive oil
1 Tablespoon honey or organic cane sugar
Mix together the flax meal and 1/3 cup water and set aside for 15 minutes until it becomes thick and gloppy.
In a large bowl, mix together flours, yeast, salt, and xantham gum.  Whisk well to combine all the ingredients (You do NOT want to have blobs of xantham gum!!!)
Add all the liquid ingredients to the dry ingredients and mix with a spatula until the dough is well mixed.  Transfer the dough to a container with a loose fitting lid, and let rise for 1 1/2 – 2 hours until doubled in volume.  The dough will be airier in texture than wheat-based dough.  Store the dough in the refrigerator for up to 1 week.
To bake baguettes, preheat the oven to 450 degrees.  Grease a baguette pan, or line with parchment paper.  (You can do this on a heavy sheet pan, but the baguette pan allows for greater air circulation on all sides of the baguette — its all about the crusty exterior!!!)
To shape this dough, you want to handle it as little as possible.  I've found the easiest way to form into baguettes is with a scoop, laying scoops of dough all in a row and then use a wet spatula or fingers to smooth out the scoops into a uniform baguette.  Sprinkle seeds or gluten-free grains of your choice on top of the baguettes.   Once you've formed the baguette, let it sit for about 30 minutes, to take the chill off the dough.  It won't double in size, but will have oven spring once it starts baking.  You can also slash the top of the dough to control the rise, just be gentle when you do!
Bake at 450 degrees for 30-35 minutes.  Let the baguettes cool completely before you try to cut them!