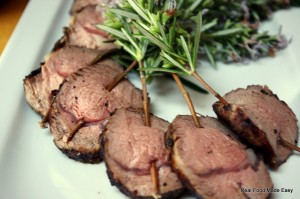 I made a grilled lamb tenderloin on rosemary skewers last night for a wedding appetizer — marinated in Moroccan spices for a couple of hours and grilled, and realized that I use this particular spice blend quite a bit as an all-round spice blend to perk things up.  It works well on most proteins, and I have even used it on roasted vegetables, where the spices get slightly toasted.
For the lamb tenderloin, I marinated whole lamb tenderloins in a combination of 2 tsp salt, 1/2 cup olive oil and about 1 1/2 T Morrocan spice blend for at least 2 hours, or overnight.  The tenderloins were grilled to medium rare, sliced and served on rosemary skewers.  If you like garlic, add it to the mix.  Slices of preserved lemon are also a nice addition to the marinade.
Because I use a number of whole spices in this particular blend, I make up a small batch of it and store in an airtight container.  This kind of spice blend is usually referred to in Morroco as Ras el Hanout (literally "top of the shop", or a blend of the best that a spice purveyor has to offer), and there are many blends, unique to each person blending them.    After some experimentation, this is a blend that I'm partial to.
Ingredients
1 tsp aniseed
1 tsp fennel seeds
1 tsp whole allspice berries
10 whole green cardamom pods
1 black cardamom pod
1/2 tsp whole cloves
1 tsp whole black peppercorns
1 whole cinnamon stick (if you can find true cinnamon, use this!)
2 tsp whole coriander seeds
1 tsp whole cumin seeds
1 tsp red pepper flakes
1 tablespoon ground ginger
2 blades dried mace
1 Tablespoon fenugreek seeds
1/2 tsp dried lavender flowers OR 1 large dried rosebud
1/2 tsp dried tumeric
Instructions
Combine all ingredients in a spice grinder (I use a coffee grinder), and grind everything to a fine powder. Sift through a fine mesh sieve and store in an airtight container
http://realfoodmadeeasy.ca/2012/05/morroccan-spice-blend/
Janice Mansfield
The following two tabs change content below.
Janice Mansfield
is a personal chef who specializes in creating customized catering and baking for people with food sensitivities. A recipe developer and baker by day, by night, she enjoys delving into the history of classic cocktails and created a line of
cocktail bitters
for no other reason than she wanted chocolate bitters in her Manhattans! In her spare time, she documents the antics and unbearable cuteness her two Shiba Inus over at
Life in the Shiba Shack
.