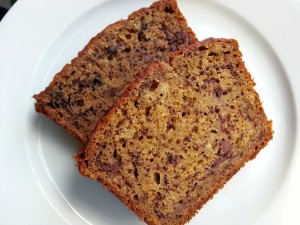 … or Banana Bread redux
I know I have another banana bread recipe on the website here, BUT it has a major shortcoming in that it uses an ingredient that is a little hard to source — Timtana flour.  For those of you who can get it, by all means use the other recipe, but for those of us here in Canada, with shipping, it creeps into the realm of silly expensive to keep in the pantry.  As an aside, it really is a wonderful flour — one of the few that makes a really tasty loaf of bread with fabulous texture with no additional starches!
… and so, I present you with Gluten-free Banana Bread redux.
There's a couple of things going on here to help make a nice springy-yet-moist loaf (after all, moist IS what its all about with banana bread!).  I like mine plain-jane, relatively unadorned.  For those of you avoiding refined sugar, this would be an awesome area to substitute honey for the sugar (use about 1/2 cup of honey and increase the quinoa flakes by about 10 grams to compensate).  I've done a couple of things to get the structure and spring the Timtana flour imparts: 1) I've used teff flour as it is fairly high protein, and has a great flavour; and 2) I've used quinoa flakes to add some nutrition and help with the structure of the loaf.
When you mix this up, it will look a little moister than a wheat-based banana loaf, but after about 45 minutes in the oven, you will see the centre start to push up and cook through.  This will take a minimum of 60 minutes in the oven, so plan accordingly!
Ingredients
60 grams teff flour
40 grams quinoa flakes
128 grams cornstarch
30 grams almond flour
1 tsp xantham gum
3/4 tsp baking soda
1/2 tsp salt
1/2 tsp freshly grated nutmeg
3 large ripe bananas mashed well
1/4 cup yogurt (non-dairy yogurt works equally well here, but if you are using coconut milk yogurt, reduce the quinoa flakes by about 10 grams)
2 large eggs, beaten
6 T neutral tasting vegetable oil such as grapeseed oil
3/4 cup evaporated cane juice or granulated sugar
1 1/2 tsp vanilla extract
1/2 cup chocolate chips (optional)
1/2 cup chopped hazelnuts (optional)
Instructions
Preheat oven to 350 degrees
Grease an 8 1/2" x 4 1/2" loaf pan
Combine the dry ingredients in a medium bowl and mix well with a whisk to combine.
Combine the wet ingredients in a larger bowl and mix well to combine and slightly aerate the eggs. Add the dry ingredients and mix with a spatula.
Spoon the batter into the loaf pan. It should be loose but not too runny.
Bake at 350 degrees for at least 60 minutes until a toothpick inserted in the centre comes out with only a few moist crumbs clinging.
If you prefer a pretty loaf, you can slash the top with a serrated knife to control the expansion.
Cool in the pan for 10 minutes before removing to a cooling rack. Let the loaf cool completely before slicing.
http://realfoodmadeeasy.ca/2013/01/banana-bread-for-all/
Janice Mansfield
The following two tabs change content below.
Janice Mansfield
is a personal chef who specializes in creating customized catering and baking for people with food sensitivities. A recipe developer and baker by day, by night, she enjoys delving into the history of classic cocktails and created a line of
cocktail bitters
for no other reason than she wanted chocolate bitters in her Manhattans! In her spare time, she documents the antics and unbearable cuteness her two Shiba Inus over at
Life in the Shiba Shack
.