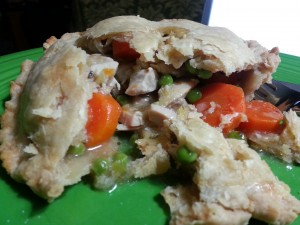 For those of you not active on Google+, take my word for it, there's a lot of fun food things happening over there!  There were already a lot of people sharing photos of food in various states of preparation … and enjoyment, and the recent launch by Google of the communities feature has ratcheted things up a few notches for sure!  I've found the medium a great one not only for sharing what I'm doing, but searching for interesting things on whatever ingredient may have nabbed my interest.
For the past several months, Shinae Robinson has been hosting these cookalongs where she shares a recipe, and those interested cook the dish along with her, sharing pics and recipe tweaks along the way.  Sometimes, if its something traditionally Korean, she'll bring her LAM into the picture to demo noodle massaging techniques 🙂
Well this month, I did a little inner squee when she asked if I would cohost the February cookalong on February 17th! something gluten-free!
FAQ for how the cookalongs is here: http://ridiculoushungry.blogspot.ca/p/cookalongs.html
Since I've been making a lot of pie, and I love pie of all kinds, I figured I would do a gluten-free pie cookalong!  After the fact, I learned February is actually pie month, so for those of you who are into that kind of thing, you can just pretend this was premeditated pie synchronicity ;P
Anyhow, for this cookalong I'll be sharing a basic pastry with you, which we are going to use for chicken pot pie OR tourtiere (a French Canadian pork-pie), and also for dessert — an apple crumble pie.  None of these are terribly difficult, but do be warned, the gluten-free pastry is a little more finicky than regular pie crust.  I'm going to try and get Jeffrey to take a video of the rolling out process early next week so you can see a couple of ways to roll things out.  The other tip as you go, is smaller pies are easier to manage for your first time!  so you might want to pick up a couple of 6″ aluminum pie plates and make a few smaller pies.
The one "must" ingredient for this cookalong is xantham gum.  While it is possible to make pie crust without it, it really is easier to make with it — it provides the stretch and binding you would normally find in wheat flour.  Once you've made a couple of pie crusts, I would encourage you to experiment with a couple of other binding options, but it really does require a deft hand and rolling pin.  Due to the increase in people doing gluten-free baking, you can find xantham gum in smaller quantities in most health food stores.  If you're looking for other cool things to use it for, check out some of David Chang's recipes in Lucky Peach 🙂
Finally, a word about gluten-free oats which we'll be using for the Apple Crumble Pie.  Oats are one of those things that do not naturally contain gluten, but are a highly cross contaminated ingredient. Often oats are grown right beside wheat, and can get contaminated in the field.  They are also usually harvested with the same combines that harvest wheat, and are ground and packed in mixed facilities.  To produce gluten-free oats therefore requires a collective of decidated growers, who are using dedicated equipment right from harvesting through milling and packaging.  There are few good quality products out there, including Bob's Red Mill, Montana Gluten-free Processors, Lara's Oats by Cream Hill Estates, and Only Oats from Avena Foods here in Canada.  For those of you preparing these for someone who is Celiac, please check with them to see that they can tolerate oats.  Even though these dedicated products test their products, not all Celiacs are able to tolerate them.  Other options for the rolled oats include Soy Flakes, or Buckwheat Flakes.  Brown rice flakes   produce a stiff-textured crisp, and Quinoa flakes, while tasty, are too finely textured to stand up in a crisp.
On the day of the cookalong, I'll be hanging out holding "office hours" in the early afternoon for those of you with questions.  I hope you can join us on Feb 17th!  Let's make pie!
.